Whiplash Symptoms: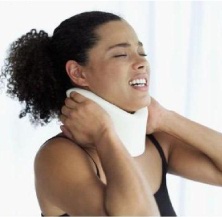 "Whiplash is a non-medical term describing a range of injuries to the neck caused by or related to a sudden distortion of the neck associated with extension, although the exact injury mechanisms remain unknown…
Whiplash is commonly associated with motor vehicle accidents, usually when the vehicle has been hit in the rear; however, the injury can be sustained in many other ways, including headbanging, bungee jumping and falls…" (Source: Wikipedia)
Have you been involved in some kind of accident that may have caused a whiplash injury? Do you think you may be suffering from whiplash symptoms? Some whiplash injuries appear immediately after experiencing a trauma or accident of some kind (such as being the driver or passenger in a car that has been 'rear-ended'!) but sometimes symptoms of whiplash can also manifest themselves hours, or even days, after an accident. About two thirds of people involved in a car accident develop whiplash symptoms.
Possible symptoms arising from a whiplash injury: